Murray's Collectibles

Maintained by:

THE BEST DEALS ON EBAY! Specializing in Canada, United States and Great Britain. We sell well below catalogue value. DEAL WITH THE PROFESSIONALS!
DEAL OF THE DAY Canada MINT OG Scott #92i 7 cent greenish bistre "King Edward VII"
Click Here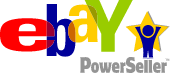 Summer Madness SALE on NOW !!!!
***PRICES ARE WAY BELOW CATALOGUE***COMBINED SHIPPING FOR AS MANY ITEMS AS YOU LIKE****